Rainbow Blog
Are You Full of Beans?
posted by: Kia
We have a great guest blog post for you from our friend Will Stroet who also happens to be a fantastic children's entertainer! We love his new song and video called Full of Beans so we reached out to Will to see if he'd write a post for us! Not only did he write this great article he is offering one of our lucky Rainbow readers his new DVD "Will's Jams" with 10 videos including "Full of Beans"!!!!!  Just leave us a comment on your favorite way to get your kids to eat healthy for your chance to win…we will make the draw on June 15th.
When I was a kid my mom would frequently say to me "Will, you are so full of beans!" I was a pretty silly kid sometimes and all these years later I am still full of beans. In fact now, as a children's entertainer and educator, I've found a way to make a living at it!
Of late there has been much discussion about what we are feeding our kids. We all know that it is crucial for our kids to eat vegetables because of their nutritional value. Celebrity chef Jamie Oliver and American First Lady Michelle Obama have both made it one of their big campaigns to clean up children's eating habits. Hats off to them both. I may not have the same profile as these two, but I have decided that encouraging kids to have healthier eating habits and to lead healthy active lifestyles will be a central focus in my career as well.
Vegetables, traditionally unpopular with kids, are getting a facelift. Eating vegetables have never been more in vogue. Kids are learning more and more in school about nutrition, and even about growing vegetables. All grocery stores carry organic produce and let's not forget the re-emergence of urban agriculture (like Inner City Farms) popping up in many forms all over our cities.
I recently released a music video for my song "Full of Beans" which is all about making eating vegetables fun. I've always been a fan of vegetables and I actually wrote this song while feeding my young daughter some veggies.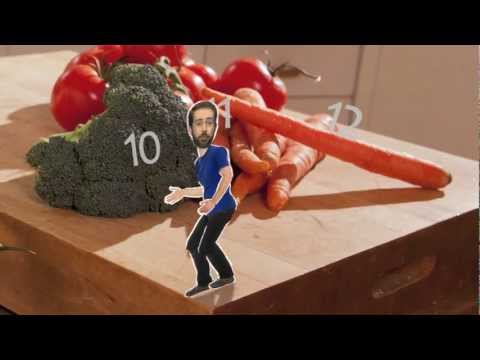 As eating veggies continues to become the thing to do I encourage everyone to get on the bandwagon and find interesting ways to eat your veggies (my actual bandwagon happens to be a Subaru and is frequently full of vegan band mates!).
Join me in encouraging our kids to be full of beans!
Will Stroet's favourite way to prepare green beans:
Wash and steam a bunch of green beans

Remove beans from pot and place in a bowl

Add a dash of soy sauce, a dash of sesame oil, a dash of mirin and a sprinkling of sesame seeds
Eat and be full of beans!
Will
Buy the "Will's Jams" DVD or digital video downloads
To check out my music and videos, visit www.willmusic.ca and www.youtube.com/willstroet. You can also find me on Facebook and Twitter @willkidsmusic
More about Will: As a children's performer and elementary school music teacher in Vancouver, Will Stroet knows kids and what will get them up on their feet. His original, high-energy and interactive songs in both English and French inspire kids to dance and sing along.
Since releasing his five albums, "Let's All Dance" (November 2005), "Will et sa maman: Chantons et dansons" (July 2007), "My Backyard" (Nov. 2008), "Dans mon jardin" (May 2009), "Walk 'n' Roll" (November 2010) Will has performed more than 500 bilingual shows across B.C. at festivals, theatres, schools and libraries. From blues to rock to pop-inspired tunes about sports, animal and active living, Will's music appeals to kids of all ages.
Tags: bean, full of beans, green beans. giveaway, healthy kids, kids, kids musician, music, snacks, vegetables, Will Stroet, youtube
Kia Robertson
is a mom and the creator of the
Today I Ate A Rainbow kit
; a tool that helps parents establish healthy habits by setting the goal of eating a rainbow of fruits and vegetables every day. Kia is passionate about creating tools that help parents raise healthy kids!
8 Responses to "Are You Full of Beans?"
The rainbow chart has been helpful in getting my kids to eat a variety of colorful 'grow foods' everyday. It is really well organized and simple to use. My kids have taken to it well. They feel ...Read More - Christina Marin ~ Mother of two-