Rainbow Blog
Eating Rainbows and Growing Gardens
posted by: Kia
We recently made a new friend on Facebook and he has put together a fantastic guest post for you to enjoy!! Be sure to visit his website
When I first heard about Today I Ate a Rainbow, I had to process it for one moment. Then its depth of meaning came together for me. Different color vegetables, different nutritional properties, eat a bit of each every day and feel the flood of health. Excellent!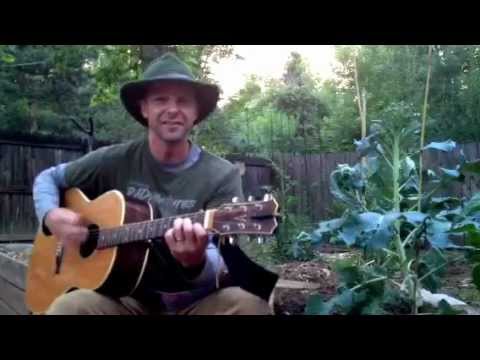 In the video, in addition to my song that I perform, I take you on a tour of my little backyard plot. It's a wonderful stretch of Earth! I was thinking about whether or not I had every color, so I'll just review checking with the standard ROY G. BIV mnemonic device for the colors of the rainbow.
Red
Check. Tomatoes. Plenty of 'em.
Orange
Mmmm. Well, I have yellow and red…but no straight orange.
Yellow
Yes. Yellow squash.
 Green
Roger that. Broccoli, jalapenos, cucumbers, basil by the bushel, hopefully the late spinach and lettuce I planted will yield as well. Plenty o' green here.
Blue
Broccoli? My broccoli is kind of blue. The cabbage may be bluish for a while. No real contributor to blue in my garden. I just realized I didn't cover the BIV very well.
 Indigo
Nope. No indigo.
 Violet
That's a negative, Ghostrider.
So, it looks like I needed to find Today I Ate a Rainbow before I planted this year. Oh well, that's what the store is for. We'll just eat what we grow, and fill the color gaps with stuff we find around here. Perfect!
What brings us to Today I Ate a Rainbow?
Well, I think it's a shared passion, appreciation and zest for tasty, healthy things that grow out of the ground. Our book app about gardening just dropped and we found TIAAR on Facebook. They looked pretty cool, so we connected!
 The Green Radventures are kids book apps for a happy planet! We believe that we can see excellent, healthy conditions in ourselves and our Earth. Our stories are about loving and respecting ourselves and the Earth, rather than 'what not to do' scenarios. We don't believe in using fear to coerce greener living. The Green Radventures kids book apps teach that we should take good care of the Earth because it is AWESOME, not because it might be coming to an end.
Our story about gardening, Nico's Green Thumb, fits perfectly into that framework. The iPad allows kids to experience ideas like photosynthesis and how plants affect our air supply and atmosphere. We take them back in history to show a major turning point of human history—the domestication of plants. These are big ideas that kids can grasp and the art and story of the Green Radventures kids apps conveys with a very high level of entertainment.
Plus, we talk to kids where they want to be—on the tablet. The tablet is their medium. It is probably going to be just like the pencils, pens, 3 ring binders, folders, books and backpacks that we used to carry. They love the tablet, and they love the simple animations that we made as enhancements to the story. (Note – we love the tablet too!)
At the Green Radventures, we stand completely in awe of the things we see happen naturally on this Earth. That was the biggest inspiration in creating our series of kids book apps for a happy planet. We celebrate the Earth, have others celebrate it with us help it come more and more into balance.
Please check us out! Search 'radventures' in the Apple App Store, or just follow the links provided here!
iPad Kids Book App – Nico's Green Thumb – http://itunes.apple.com/us/app/green-radventures-book-2-hd/id530883642?ls=1&mt=8
Free iPad Kids Book App – Nico's Green Thumb – http://itunes.apple.com/us/app/green-radventures-book-2-hd/id530885235?ls=1&mt=8
iPhone Kids Book App – http://itunes.apple.com/us/app/green-radventures-book-2/id530884766?ls=1&mt=8
Free iPhone Kids Book App – http://itunes.apple.com/us/app/green-radventures-book-2-free/id530885608?ls=1&mt=8
Paul Wozniak
Paul Wozniak is a happy Earthian who lives in Colorado. Professionally he is a broadcaster, writer, producer, blogger and DJ. Passionately, he spends as much time as he can in the midst of Nature on this amazing planet.
If it looks like Paul resembles the Green Minstel, the colorful character from the stories the GREEN RADventures of Nico, well, it's because he does. In fact the two couldn't be more similar. Paul created the Green Minstrel in his likeness because he knew that these stories and lessons go beyond the cartoon world to apply to our world. Look for Paul Wozniak aka the Green Minstrel coming to a stage near you! paul@radventuresofnico.com
Tags: eating rainbows, fruits, game, green radventures, growing gardens, healthy kids, ipad for kids, nico, paul wozniak, story, vegetables
Kia Robertson
is a mom and the creator of the
Today I Ate A Rainbow kit
; a tool that helps parents establish healthy habits by setting the goal of eating a rainbow of fruits and vegetables every day. Kia is passionate about creating tools that help parents raise healthy kids!
2 Responses to "Eating Rainbows and Growing Gardens"
I just love how the chart has relevance across the lifespan.  Parents can use it as a 'checklist' once their baby is introduced to solids, young children can strive daily to earn all their magn...Read More - Colleen Bezeau, Editor & Publisher-Okanagan Child Magazine