Rainbow Blog
Homemade Granola – The Whole Family Cookbook
posted by: Kia
This week we have a special guest who will be sharing her thoughts on making granola for the first time!  Our very own Rainbow Girl Hannah Robertson will take it from here
I think The Whole Family Cookbook is amazing!  The recipe was easier than I thought it would be because I've never made granola before.  We usually get granola from the store.  We got the Whole Family Cookbook and I saw that it had a recipe for granola.  I didn't know I could make my own granola!!!  It even has an age chart so that people know what kids can do to help.
I got all the ingredients together. Then Mommy and I measured the ingredients.
Then we mixed them all into a big bowl.  In a different bowl we mixed up the wet ingredients.
Then we poured the honey mixture over the oat mixture and stirred and stirred it all up!  Then we put it on a sheet and Mommy put it into the oven.
It smelled soooooooo good in the house!  In a little while…it was ready!!  It was delicious!  I wanted to do a taste test with store granola.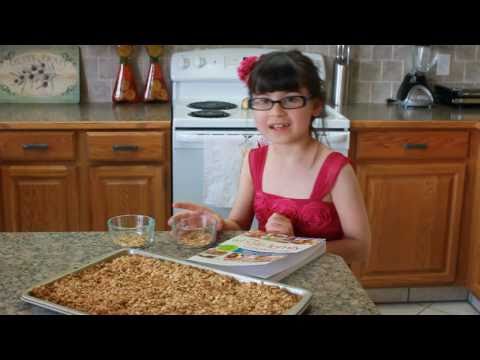 The one that I liked better was MINE!!!  I never want to by store granola again.  I know I mentioned this already but it was delicious
Bye Everbody!
Hannah
Kia Robertson
is a mom and the creator of the
Today I Ate A Rainbow kit
; a tool that helps parents establish healthy habits by setting the goal of eating a rainbow of fruits and vegetables every day. Kia is passionate about creating tools that help parents raise healthy kids!
3 Responses to "Homemade Granola – The Whole Family Cookbook"
Today I Ate A Rainbow™ is a wonderful way to help children to remember how important essential nutrients really are. As we say at Vitamin Angels: Essential Nutrients, Healthy Children! Thank you t...Read More - Howard B. Schiffer / Founder & President-Vitamin Angels