Rainbow Blog
Making Healthy Eating Fun…on Vacation!
posted by: Kia
We were SO thrilled when Deb from Iron Kids (in case you don't know…they make tasty vitamins for the whole family…go check out their site)  said she had a guest blog post for us…we knew it would be good be we had no idea it would be THIS good!!! We know you're going to enjoy all the colourful pictures and the video of her 3 amazing kids is such a sweet bonus!  Thanks Deb…you're the best!!
Children are really not that complicated. Want them to do something? Make it fun.  Want them to learn something? Make it fun. Want them to eat something? Make it fun.
Sometimes it is that simple.
We went on a two week all-inclusive vacation with our 3 daughters age 6,8,10 and I will admit I was a bit concerned with what they would eat.  At home I can control what is not offered; no french fries pretending to be dinner, no sugary, whip creamy things for dessert, and no artificially coloured cereals posing as breakfast!
At an all-inclusive resort however, all of these things are out on display teasing the children with their unhealthy gooey goodness, everyday!
Usually at kids eye level too! For some reason all the healthy stuff is over with the adult food, hidden and up so high the kids can't reach the self serve spoons!
So what is a mom to do? Well, by a wonderful coincidence, I found the solution and it was incredible how well it worked!  I had taken our Today I Ate a Rainbow kit with us on this vacation; not for the kids, but for something I wanted to do for Kia.  I planned on taking some photos for her of her new Today I Ate A Rainbow kits and of the kids on the beach with their tropical fruits. What I didn't expect was the kids to play with the kit while we were not at the beach.  And I certainly didn't expect them to run around the buffet looking for something green to add to their plates so they could complete their Rainbow everyday!
Sure they do this at home but we were ON VACATION!  Who brings their Today I Ate a Rainbow kit on vacation? Not sure why I thought eating a rainbow was only something to be done at home. Not sure why I didn't see in advance the fun the kids could have in a giant buffet looking for something new and yellow to try!
It was pure and simple brilliance.  The kids were having fun and when left to make their own choices at a huge buffet, they showed us with pride the green beans at dinner, the red watermelon at breakfast and the orange cantaloupe they chose at dessert!
Now I am not suggesting they passed up on the French fries or turned up their noses at the chocolate covered whip cream cakes, but they did add veggies and fruit to every plate.
As the days went by, the novelty of the fried foods, gooey treats and coloured cereals definitely wore off and their completed Rainbow was a brilliant reward for the healthy choices they were making.
May I suggest, the next time you are faced with a few days of buffet style or even typical restaurants Kids Menu's that you pack a little healthy fun for the kids and take your Today I Ate a Rainbow kit with you.  The kids will enjoy exploring the new foods and they may surprise you as they teach themselves how to serve a healthy meal full of all the colours in the Rainbow!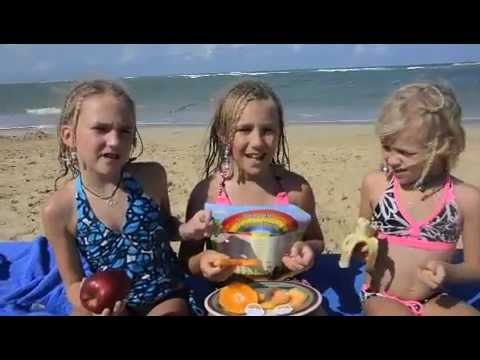 Thank you Kia for our Today I Ate a Rainbow kit, and thank you for helping me raise healthy eaters!  The Today I Ate a Rainbow kid will be going on all our vacations from now on!!
BIO: Deb Lowther is a mother of 3 young daughters who, when not running after the kids, is running in the trails! She blogs about Raising Healthy Kids and ensures her own have fun while eating healthy & staying active.  You can visit her websites to learn more www.iron-kids.com & www.adultgummies.com
Tags: buffet, eating a rainbow. iron kids, fruits, healthy choices, healthy eating on vacation, healthy food, healthy kids, kids menu, snacks, vegetables, vitamins
Kia Robertson
is a mom and the creator of the
Today I Ate A Rainbow kit
; a tool that helps parents establish healthy habits by setting the goal of eating a rainbow of fruits and vegetables every day. Kia is passionate about creating tools that help parents raise healthy kids!
One Response to "Making Healthy Eating Fun…on Vacation!"
While our son already enjoys a wide variety of fruits and vegetables, he loves the Today I Ate a Rainbow™ chart, and feels proud filling in the chart and giving himself a rainbow at the end of the...Read More - Lisa McIntosh-Urban Harvest